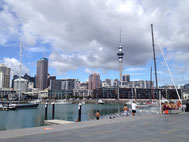 Sightseeing!
With the taxi we get down to the harbour, we had to choose at least for one quarter. Of course

we take that one with the most water ;)

It's heaving, that could be because the harbour district is as well city centre, but it could also be because of easter weekend. No matter, we jump into the urban jungle. You could take a boat or ferry, certainly they offer harbour tours, you might visit the maritime-museum, do some shopping, I'm sure there a thousands of possibilities to spend your time. But we do just a walk through this area and let impressions sink in. At some time we get hungry and enjoy a pizza at Quay Street. Funny, on our first and our last stop we have some pizza - that was not intended at all. But yummy in both cases :)

We wander along sailing ships, a fountain spitting fire and water, some bridges and strange objets d'art, return and walk into the other direction where we by chance discover "Brew on Quay", a sort of pub with proper seatings [tall heavy wodden tables and benches which do not tumble down at the slightest wind]. Here they offer fresh taped beer, here we are right. Cheers for our holiday with a lager and an ale! Refreshed we walk back to the taxi stand veeeeery slowly, not without wondering about underpinned (!) odd trees and many old houses between skyscrapers.
The next day Gerard brings us to the airport, we chat about motorbikes and the most beautiful corners in NZ and suddenly we are at the check-in. Some firefighters are collecting donations, one of them gets our last NZ-coins. As most of the Kiwis he asks us about where we are from and if we like what we have seen in his country, within this chat it comes out that he has contact to a German firefighter at Itzehoe [a town ca. 100 km away from our home]. So is the world a village after all?

At the airport-shop I find the nice little NZ-book with beautiful photographs which I have discovered at Deborah&Gerard's B&B, I ponder a couple of times about possum gloves until we thankfully hear the boarding call and I have no time anymore to buy gloves or scarfs or something else, what a pity ;)
Inevitably we have to leave New Zealand, Air New Zealand welcomes us as if they would really be glad to see us. In fact they do not have elven-like stewards [their hair is much too short], but all six middleearth-movies. Next stop is Sydney, one movie we will manage.
04.04.15/  Auckland