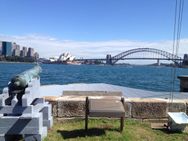 As we are already in this part of the world we have to take a day at Sydney.
At the hotel we are welcomed by a very special committee: Two cockatoos are sitting at the window.

And in addition it is full moon, photographer and camera are in demand.

But before that moon-shooting we go out, hunger is getting us to Pott's Point. Here it happens: Three weeks in New Zealand and only three times eaten fish'n'chips because we were hungry at the false times [when no shop was in sight], now the australian fish will be tasted. The "Fish-Shop" in Challis Ave. is the only shop inviting for dinner anyway, all the others are too expensive and elegant. We sit outside, the meal is phantastic, even I [me?] am eating a piece of fish [!] and do not fall down dead from the stool. It is really eatable. Nervertheless I prefer my salad with radish, cucumber and garlic dressing, very tasty too :)

[http://merivale.com.au/thefishshop]
The next day we take breakfast at the french bakery "Infiniy Bakery" at Victoria Street, besides baguettes etc. the also have croissants and flat white, of course. We get giant croissants. A pedestrian passing us is flabbergasted about them - as well as we are. They really taste almost as in France, great[http://infinitybakery.com.au/cafe/]! Afterwards we walk through some nice little streets towards the harbour. We visit "The Rocks", Sydney's old town quarter, and then do the "hop-on-hop-off-tour". It starts at Circular Quay, gets you to several piers where you can hop off the ferry and hop onto the next one, if you are ready with sightseeing. First stop is Fort Denison, a tiny island with a fortress, at some time a prison, today part of the Sydney National Park with a restaurant enclosed.
Next stop is Watsons Bay, here you find a big park which is crowded today as we have easter monday. We take a look at the cliff at Gap Park and notice that they have built houses here. Courageous. [As neighbour of a bluff I am always sceptical concerning houses on cliffs.] From there we also notice how dark the sky grows "over there" and how sailboats at Port Jackson are all driving towards the land. Seems there is a thunderstorm coming. So we join the others, walk straigt to the pier and take the first ferry. Apparantely this smaller ship has been added and does not approach every quay, seemingly they are in a hurry to get all their guests back home safely. Fortunately the storm is not as heavy as suspected, it rains a bit and when we are back onshore everything is already gone. We move through the masses of people at Circular Quay and walk slowly back to our hotel.
On tuesday we get our rental car and make a weird experience: The navi does not work. The lady at Europcar prewarns us, at Sydney GPS will not work due to the houses and narrow streets. Aha. But she is right, we lose our way and then need one hour for 13 km. Ouch. After that we want to drive to Katoomba, looking at the Three Sisters - that does not work too. It is overcrowded at Katoomba, we hardly reach the first roundabout. Damned, we have forgotten that there are easter holidays and half Sydney wants to take a look at its mountains. Alternatively we drive to Blackheath, it is much calmer here, looks almost like last time and there is more water in the cascade, yeah!
Shortly after Springwood the next surprise: It's bucketing down. I never would have supposed so much rain in Australia at this time of the year. Well, 280 km further the temperature has increased from 13°C to 24°C, this is the weather you expect here. Sunny.
The rest of our kinfolk-trip and back continues unspectacularly, probably due to the low sitting in the car - you simply cannot see as much as from a campervan's seat.
Emirates has queered our pitch and advanced our flight [who the hell does make such decisions?], so we have to leave early. Next trouble at Sydney: Traffic jam. And the last service station before the airport is on the wrong side of the street [which has eight lanes]. Well, then we have to pay extra fees for getting the car filled by Europcar, can't be that much. Anyway, we cannot change it now. Sweaty, hounded and bugged we arrive at the check-in counters. What can I say? Now they have set back [!) the flight for some hours, there has been a sandstorm at Dubai, all flight plans are mixed up. We spend this little unexpected pronlongation of our holiday with a freshly taped XXXX on the summerly patio and make plans for our next trip to NZ/OZ.
06.04.15/ Sydney