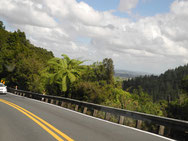 Our last day with Jed today, we go off to Auckland again, this time we have to enter the city.

At the campsite we give our superfluous pasta, sauces, spices, broached honey, washing-up liquid etc. to our neighbours who have just started their journey [funny, they are Wildernessers too]. In the last weeks we have eaten pasta actually only once. We! Rarely cooked we have had many variations of salad and sometimes fast-food; and once onion packet soup, not really to recommend.

While we bundle up our things we listen curiously to the lady of the waste disposal who is blustering. How can anybody be so stupid to put green glass into the barrel for brown ones? Apparently she has to sort out now on her own. Until we react and want to help her she is ready and lifts up the tons. [Okay, this was bad temper in NZ for the second time.]
At Kerikeri we reach the dumpstation and get the car ready for turn-back. This village seems to be a nice one, perhaps we should stay here once for another whole day? Then we drive off to the service station where we want to get refilled the gasbottle. The attendant laughs a bit and shakes his head - no chance, there's no space left. Did we really consume that little? We had coffee every day, sometimes the heating had to be used and still we had no noteworthy consumption? Well, so much the better.
At Kawakawa we are amused by the place name but totally miss that we could visit THAT Hundertwasser-toilet. Instead we pass it, I don't have the camera ready and so we do not even take pictures. Actually we only wonder about the colourful paints and forms and lots of people. Well, just philistines all along the line...

We drive again through bustling Wellsford and get a sub, then further south. As always landscape and weather are changing permanentely but it stays dry. The streets are crowded, at the opposite lane they stand in a long jam - no idea, about 20 kilometres? It seems that half Auckland is going to visit the north with theirs boats and fishing tackles over easter. The other half goes probably to Coromandel so that at Auckland will rest only tourists as us and their hosts.
Around 15.30, thus barely before closing time, we reach Wilderness and say good-bye to Jed who has taken us ca. 5.500 km across NZ that faithful.
After our first tired stammering Marcel tells us that we may also speak german. Great! It is not beneficial for learning the english language but very helpful. We chat a while, then Marcel gets us a taxi. [Danke, Marcel, und entschuldige bitte unsere späte ankunft! Wir konnten uns halt nicht so schnell von Jed und NZ trennen ;)]
After some 15 minutes we arrive at Hillsborough, where I have booked a B&B in advance. Deborah and Gerard are welcoming us heartily and let us explore our new short-term home: A whole flat, for us alone! Kitchenette, two rooms, bathroom, toilet and an awesome veranda. [As soon as we sit down with our welcome-brownies our thoughts rotate: Where can we build up a veranda like this at home?] Actually we wanted to take a walk down to the bay but somehow we rest on the veranda, feet up, eating fruits [thank you Deborah, that's a very nice idea with all the fruits!], enjoying sunshine. By the way we disclose the secret of the strange bird: Deborah has got a painting at the wall with a bird on it looking similar to the one we have seen at Aroha. She listens to the recorded tunes and then it is all clear: Tuis! We could have come to that on ourselves...

03.04.15/ aroha island - auckland