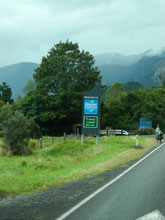 We leave Wanaka under a slightly clouded sky, driving north and then towards the western coast. We still do not know our destination, perhaps something with glaciers? Or rather something at the ocean?
And are we going to see a little piece of Mt. Cook?
We drive along impressive lakes and mountains again until rather sudden we have Tasman Sea in front of us. The place Haarst is much smaller than I had expected, there seems nothing interesting to watch here, so we drive further on along the coast. We stop at Knights Point Lookout, we are coffee-thirsty and cookie-hungry. What to say, the lookout is phantastic as often and you can literally see the Blackpearl turning around the corner ;)

However we get to know those sandflies. Small flies, you hardly see them, you do not hear them and above all you do not realize them biting you. Because we notice how many of these beasts are flying around we sit down in the car very fast. And speculate: Is it a sandfly there on the sunshield? No? Yes? No idea? [The other day we know for sure: It was...] Ok, so we won't stay here any longer and drive on. A part into the heartland, back to the coast, again into the heartland and suddenly we are at so called "Glacier Country". And NOW we know why Bonnie told us that we do not need snow chains at this time. There is no snow, no ice, but tables and seats outside the bar.

We drive down the valley, something forces us to get on and we are not in the mood to visit glaciers when we must leave the highway. We have a good run at the moment. Of course the result is that we do not see more than signs to famous Fox- and Franz-Josef-Glaciers, souvernirshops from the outside and river beds with green glacial water. Due to cloudy weather and nebulised mountains we do not see Mt. Cook, of course. Well, you can't have everything :)

Next planned destination is Hokitika, a coastal place :) where you shall also see glowworms! Gloooooowworms - aaaaaaaawwwwww! We cross the tremendous bed of Hokitika-River [700m!], on the right the mountains, on the left the ocean, and have to fuel up. Then we are looking for the campsite but it is.... well, somehow not prepared for campervans? Not there anymore? No idea, we are in the middle of a housing area at the outskirts. No, this was not our expectation. I would have loved to be in town, take a walk at the promenade and watch some jade- and paua-jewellery in the souvenirshops. Hm. Short debate, what to do now? Further on. We want to get back to the east-coast: The weather at the west-side is said to be not  very well the next days, we want to go to Kaikoura in any case and slowly we have to think about the passage south- to north-island. Therefore we want to make some more kilometres today - hence no chance for glowworms :(

Because we want to see Arthur's Pass we take the road no. 73 at Kumara Junction, heading east and are - swoop - in the mountains again. We drive a little more elevated than along the coast but are not very high yet. I'm very curious about the pass.

For today we find a very nice campsite at Jacksons, the welcoming committee is made of wekas. AND they have glowworms here! At dawn we step down to the stream and really, one after the other glimmering points arises. Soooooo cuuuuute!

tag 9/ 21.03.15 - Southern west coast / glacier country