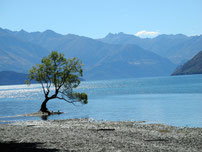 Because we did not ride motorbike yesterday, we have great weather here and they have a bike rental at this campsite we decided last evening to stay a day longer at Wanaka. Not to drive the van one day may be recreative too. So we rent to mountain-bikes plus helmets [you must wear them in NZ], Tracy gives us a little map and some tips for restaurants and "early" in the morning we go on towards Wanaka.
Surprise # 1: The cycle paths are slightly fixed [? do you call it 'fixed' when it's not paved but sandy and still well to drive?] and there are even downhill-tracks. [As we get to know later on NZ is a downhill-paradise.] The fewest paths are paved so you have not much cars here :))) We drive alongside the lake, at some place we watch kids and youngsters race in the water supervised by some adults. Is it a kind of school sports? Relay with water-filled buckets, fill a barrel in the farther water, back again - strange. But it looks funny.

At Wanaka a lot of people are on the road and in the park. It's friday, the sun is shining, people are relaxing on and at the water, talking or reading - just as in summer in german parks. And we come to surprise # 2: There is a tree. In the water. I know that one - I have seen it already several times on internet?!? I just didn't know that it is settled at Wanaka Lake. Of course we have to take some pictures of that tree that has its own hashtag ;)

Afterwards we drive on along the lake, searching for the restaurant Tracy has recommended, they shall have the best "scones" here. What the heck are scones? We are lucky to find some little drawings on the menu and learn: Scones are little pies with several contents (veggies, meat, cheese). But what we are more interested in is the angus-burger. Ooooyyeah, that is ours, fair meat we probably never gonna get at home [whoever has eaten a steak in OZ/NZ knows what I am talking about]. With it we have cold still water [for free!], a ginger beer and a radler-bier. And what a kind of radler! The ginger beer contains no alcohol at all, it is only called "beer", but instead the radler has all the more: 5% alc. - gosh! And besides a very little splash of lemon there is no comparison to our 'alsterwasser' [which is made half beer half lemonade] :) When the burgers arrive we remember: You cannot compare these portions to those at home: The burger is huuuge, the chips are big and much to much. We cannot eat it all :/

More than invirogated we drive on, it's getting somehow emptier and finally we are almost alone. Along the path there are barrels, filled with water and buckets - what is that for? The solution is printed on a label: "We are thirsty, please water us! Happy Holidays from the plants." We don't need to be told twice and spread some water onto the rather young plants around. Nice idea, we think. After that we go on and have to drive uphill now. At once the good food takes revenge! Who is this silly cycling uphill, at noon, without any wind, directly after a rich meal?! I see stars and have to sit down in the shadow. From here I enjoy the lakes view. It is so beautiful here :) Because of the few capabilites to cycle uphill we decide not to take the path up to its end but return. Now it's downwards, ohmygoodness. Fortunately the bikes have good brakes, this is too fast for me on that narrow path. [And I really don't know how anybody could do downhill-sports, they are all mad ;) ] At Wanaka there are still lots of folks at the promenade, we take again a rest in front of the Wanaka Tree and then slowly drive back to Jed. Phew, I'm full...
tag 8/ 20.03.15- wanaka