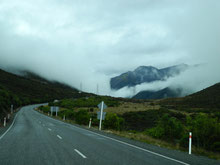 We have the next long cruise in front of us and we have to leave the site until 10, so we drive on rather early. Along Otira River and Arthur's Pass Nationalpark, across the Southern Alps.
And in the thick of it, completely unspectacular, shortly behind some road works, we are suddenly at Arthur's Pass Village, I cannot set the camera that fast... So we drive already upon Arthur's Pass, 920m above sea level! We did not notice at all... to be honest it seems to be not more than 300m. Probably because we are driving in the valleys, but the valleys are located rather elevated. However, there is no snow. No flake. It's just foggy. So we're really not in need of snow chains ;)

Are we disappointed? No, only astonished. We had supposed that scene to be a bit more spectacular: High above on the pass looking down to the other mountains, that was our idea of crossing a pass. In favour the landscape afterwards is the more varied. Mountains in the backrop, just as Waimakariri River, moorlands in the front. If I had not read that the 'Hobbit' was filmed at Twizel I would swear scene 88 has been done here :)

Mountains, mountains, mountains but behind Lake Pearson they look different again and are not that high. We are back in dry Canterbury, no moorlands, instead dry grasland - they have to water this lands a lot to raise wine, I guess.
We are back at the ocean [finally ;)], only our search for a campsite is getting a little... unusual. The site we approach at first has got a big sign at the entrance: "Please pay your fees at the next campsite at Goose Bay." Eh? The site is really next to the water but a bit untended, the 'facilities' are corrugated-iron sheds - oh please no, for this we do not want to pay so much money. Perhaps this is a site for the locals, sleeping one night and fishing the rest of the day? Striclty speaking this site is TOO close to the sea to me, so we drive on some hundred metres, there shall be a bigger site. We find that holiday park and thankfully there are not many guests. A really nice place mit ocean-view, much beach, clean [masoned] toilets and showers, a playground and a place where you are allowed to gut fishes. In summer all hell must be let loose here... Today it is empty and quiet [apart from the crying baby in the van next to us, but it calms down after a while]. We take a walk at the beach and then finally book the ferrytickets. In two days we want to... have to... leave the south island. [In summer you have to book the ticktes weeks before your passage but now everything works out without objection.]
22.03.15/ jacksons - goose bay