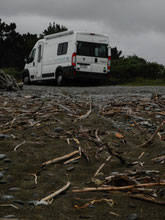 Friday, 13.03.15  -  Welcome to Wilderness Campervans
More than a year ago I found the company via internet and deemed it best - in my opinion the price-service-performance-ratio is at a very high level...  Oh dear, what do I rant... It's a bunch of cordially people who obviously love their job and know what they are talking about.
In preparation of the booking I have asked a lot of things via e-mail and always got an answer within 24 hours [sometimes even in german!], when doing our deposit we got a great digital guidebook and on location there stood the campervan I had booked. [We once had to learn that this is not understood everywhere: We had an upgrade (at no charge at last), but sometimes you prefer a smaller car especially on smaller streets and parking sites.]
Arriving at Wilderness Bonnie is immediately on the spot helping us with the baggage and welcoming us. If she had not said that we could have noticed that in another way: At the entrance the stand-up display says "Welcome Christine & Matthias - Welcome back Jennifer, Marc..." etc. - well, that is nice! The paperwork takes us about 15 minutes, the car-instruction not much longer as we have a similar campervan at home and do not need tv or microwave.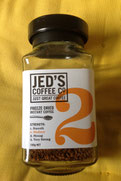 Equipped with a german campervan guidebook, MarcoPolo overview streetmap of New Zealand,  roadmap ("Hema New Zealand Handy Atlas"), DOC-campingguide NorthIsland, micro-sim, phone, tablet, Rankers-app, Wilderness-app, Campermate-app, digital  Scott Cook's "NZ Frenzy North&South" and navigation system we set off. First stop is New World's supermarket + Subway, Bonnie kindly has given the route into Navi. Thank you!

Sun is shining, it's about 25°C, stomachs and fridge are filled, instant coffee is in the drawer - OHMYGOODNESS - we hit the road!
We take highway no. 1 direction south, first of all we want to become acquainted with left-hand traffic and campervan the easy way.

The roads are awesome: Perfect road cover. And where it isn't perfect it is under construction. They rebuild the whole cover, there is no kludge. [in Germany we may only dream of these conditions.] Speed limit is 100 km/h on rural roads and 30 km/h to 70 km/h within built-up areas.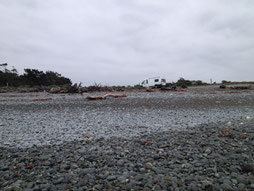 After nearly 200 km we reach our first "freesiter" at St. Andrews, a free campsite without toilets, showers, charges. It is  a place where you only may stay one night or two if you have a fully contained vehicle. Fortunately there exist a lot of  free-sites in NZ.

 With a little help from rankers-app and Navi we find the spot pretty fast. But what is irritating me is the "danger-of-tsunami" sign at the beach... Should we really stay here? What if the water comes higher than expected?  Hmmm... we can not have a look at other campers, we are all alone (wow, that's amazing!).

Viewing the cattles nearby tells us "everything is ok", they are deeply releaxed and don't show any signs of

worriedness. OK, we take place on a little hill and assume that the wind will not freshen. Yet I'm feeling a little queasy.

Meanwhile the sun has gone, the sky got grey and now and then we have drizzling rain. The waves bang on the beach and I can't get enough of watching waves and flints. I'm taking one photo after the other but unfortunately I'm not yet used to the camera - most of the pictures are blurred :/
The night is a little uneasy. In fact the pacific is kind of pacifying (!) but nevertheless quite noisy and I am not feeling sooo safe. Finally I manage to sleep and the next morning proves that there was no need for worries: The water has come as far as 5 m to the campervan. In the night two other campervans have arrived but they are so far away, we can only see their roofs. Struth, it is beautifully lonesome around here.
13.03.15/ st. andrews (canterbury/nz)