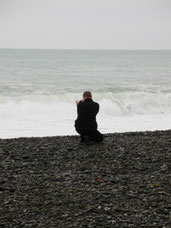 The next morning is grey but dry. We have our breakfast in the camper [with toast! big thanks to Ingo&Constanze for their tip to take a gas-camping-toaster with us!] and then we have to take another 100 pictures of the pacific waves. Sometime we leave the beach and go on, direction "somewhere south". We do not have any plans, let's see how far we will get.
Left-hand the Pacific Ocean, right-hand some mountains, ahead the street AND sun is finding her way through the clouds - smashing!
We take a rest some kilometers outside Oamaru and want to top up one phone card - oops, creditcard does not work...?!? What's that, yesterday there was no problem? Is it due to the connection? Due to friday? The other card is ok. Strange...
According to the camper's guide there is a campground directly at the port, actually we want to take that one. But it turns out not to be the best, just grassland with nothing upon it. The port's sight is not what we had expected and furthermore it is quite early noon, too soon to stop for the night. We could take a look at the town, it seems to be an interesting one with all the old houses. But looking at my driver confirms it: "Nope, don't wanna take a walk, want to see more landscapes." That fits. I prefer walking at the beach, too. So we have a look at the next campground which could please us: "Old Bones Lodge" - at least the name is appropriate ;) After some extra rounds in the suburbs of Oamaru ['gosh, we have been here two times now, where is the exit?'] we reach 'the bones' at about 2 o'clock. The lodge turns out to be a formidable backpacker hostel with very few sites, lucky us :)

 Gloria, the very pleasant host, provides us with important information about penguin-watching [much too soon now, they only come at dawn] and tidal ranges: Not only in Friesland you always should know high and low tides. It is very important in NZ when you want to see special rock formations etc. - in case of doubt you are at the wrong place at the wrong time and will see only water. We will have this case of doubt often within the next days, but for today it is perfect: Gloria proposes to visit Moeraki Boulders at once [the next chance to see them would be tomorrow morning at 06.30 ...], it takes only half an hour with the car. Said and done and three-quarters of an hour later we form a queue with several other tourists. These boulders are really strange semi-circular big stones. Dragon-eggs. Of course we take some photos and of course we visit the souvenir-shop. Succesfully, I have to admit, 100 bucks change their owner. But the one creditcard still does not work. Hm. Is it the card itself?
On our way back to the lodge we manage to lose our way again and end up in the same corner at Oamaru which has driven us almost to despair at noon. Perhaps it is Oamaru's revenge for not taking the harbour's campground? So what, the awesome landscape compensates every extra tour ;)
At the lodge we would have spent more time outside Jed but as soon as the sun goes down twilight and sandflies come out - and we get into the car immediately!
14.03.15/ otago coast - moeraki boulders