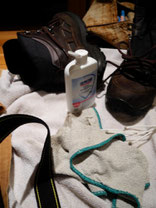 And off we go!

Flights and campervan are booked, boots are desinfected: In march 2015, after one year of preparation, we're travelling to NewZealand.

Who would have thought that the best seats in the airplanes are actually gone more than 12 months before the flight... good to know for the next time ;)

Emirates gets us from Hamburg, Dubai, Bangkok and Sydney to Christchurch, the flying time is about 24 hours plus stopover. This will hardly shock us as we know there is plenty of entertainment on board [at last we may watch all the movies we have missed the last years in cinema] and continuous service by the crew. Only one stopover is a little stressful as we have to leave the plane - step into the airpoirt building - get through the security check [including taking off our shoes...!..] - step into the waiting area with another security check - all this within one hour - and then wait another 30 minutes until getting on the plane again ...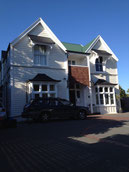 Our journey starts with Christchurch:
Two nights at B&B, one day of sightseeing - after the long flight and before driving on the left side we want to calm down and fill up some energy. That's easy, Christchurch welcomes us with summerlike 20°C [ok, that's summerlike for us from northern germany...]

veeeeery important and still at the airport: Buying a vodafone-card for webaccess. Not very cheap (NZD 50,-) but cheaper than telekom-roaming costs and valid for NZ, OZ and other countries. We get a taxi, after a while the driver realizes where we want to go [note: "armagh street" is pronounced "amastree" - we will have to learn a lot ;)] and then we get a warm welcome by Linda at "The Grange Guesthouse". This is one of the few old houses which have not been damaged too much in the earthquakes 2011.

We get a room at the ground floor with coffee making facilities in an old cupboard (!) and thanks to courtyard and fence we do not hear too much traffic from the street. We unpack some needful things, check our e-mails and discover: Coffee isn't enough. So we walk to the nearest supermarket and have a little look at a little part of the town centre. The houses virtually untroubled by the earthquake look kind of victorian, the new ones are built from glass and concrete. Or are containers.
After that long flight and the confusion because of different time-zones [northern&southern hemisphere, winter&summer-time - after all the kiwis are full 12 hours ahead, that's good to calculate] we got to sleep very soon and awake rather early. We enjoy a rich and tasty breakfast and then leave for the city. First of all we have to get an overview so we visit the museum (www.canterburymuseum.com), a little bit of history could not be wrong.
First surprise: No entrance fees! You may visit the museum at no cost but you will be asked politely for donation. Second surprise: There is much less history of Maori than I had expected. Instead nearly every corner of 'modern' life in NZ is lit, including a t-shirt-exhibition and a whole lounge transported from Southland/Bluff and rebuilt in the museum... ?!? (-> "Paua shell house")
We have some mixed feelings when booking tickets for the redbus, a sightseeing tour along the earthquake zone - thus complete Christchurch's downtown. Is it sensation mongering or does it help to rebuild the city a little faster? I don't know.
As long as we have to wait for the next bustour we enjoy the sun (!) in the botanic garden - we even have to pick up our sunnies and put on some sunscreen - we are extremely excited.

In contrast the rebuild-tour is rather depressing. Aside from the dead and injured it is distressing to realize how much is still broken. Most of the rubble has been removed by now [and what has not is fenced because of danger of collapse], behind the facades you have 40-ft-containers piled up on order to hold the facades [when time has come they will be expanded again into houses], in the facade-less church dangles a bulb in the wind... but everywhere is re-construction. In the town's centre the  "re:start" shopping mall, built from colourful containers, gives you icecream, stamps, clothes, souvernirs and yummy pizza - a very nice, lively, good-humoured atmosphere around here!
We roam a little through the centre, get lost at times among the closed streets, enjoy an isotonic cold drink (= lager and ale) at fresh renovated New Regent Street and freeze a lot - the wind blowing around the corner is rather cold too. 20 minutes later we are back at B&B, the next morning we get a big breakfast with ham&eggs resp. pancakes and then continue our journey - the campervan company is our next stop. And THEY are cool: They have organized a taxi for us taking us from B&B to Wilderness Campervans - that's what I'd call 'extended service'!
12.03.15/ christchurch