Thursday, 01.11.12 - Whilst the revelers are going in Germany ("Karneval") we can hardly break away from Sawtell. Seems to be kinda surfer's paradise, everywhere pimped pick-ups with surfboards on their platform, everyone tramps in flip-flops, sunnies are mandatory and great-shaped bodies as well. Yet nothing for us :)
We experience the adventure "shopping-mall" and stock up on sun hat, indicated 'shoes', food and postcards and are leaving the airconditioned mall unwillingly. But hey, there's so much more to be explored!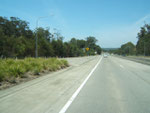 On the 'Pacific Hifhway' we drive back, veeeeeery slowly, towards Sydney. There are lots of melodic named towns as Nambucca Heads and Urunga on our way, as well as many more nationalparks. In Macksville (do the trucks come from here???) we hit our mirror for the first time, the bridge seems to small :) But nothing gets broken (and a little damaged it was from the beginning).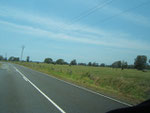 Landscapes change - bushland - meadow - forest - bush - mangroves in Nambucca River and at once we think we're in Friesland (landscape in northern Europe: Netherlands and Western Germany e.g.) - everything's flat!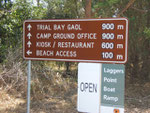 On our way through Arakoon Nationalpark to South West Rocks: It's said that the first English convicts shall have landed here about 17something and first of all have raised a building for the prisoners. Probably the oldest stonebuilt house in Australia...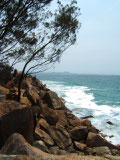 To be honest: I think the landscape is much nicer than the building. Especially because we see whales! A whole family, I guess, puffs alongside the shore. At first sight I had wondered about the strange froth. Whales! Amazing!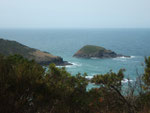 After this 'historical visit' we drive along the coast to the Captain Cook Lookout at Smokey Cape. Who could have been landed here once? But again I'm more interested in landscape than in history :) It looks like the Blackpearl would come around the corner the next moment, doesn't it?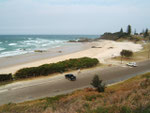 Back on the Pacific Highway it gets fuller, the towns become bigger or they close ranks. It's much more populated than in the heartland (of NSW). The sun goes away, it gets fresher. We are not too sad about that. The next stop is planned for Port Macquarie but the campsite doesn't fit at all and we search for another one. Fortunately! At Flynn's Beach we find a nice one: 4 minutes to go for fish'n'chips, 5 minutes to go for the beach where we eat our fish or wrap benath strange trees at a picnic-table.
OZ/Tag 10 - Sawtell - Flynn's Beach (11/2012)