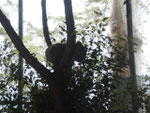 Fr, 02.11.12 - And on we go through PortMacquaries suburbs until we arrive at Billabong Zoo, our only chance to watch Koalas... They sleep 20 hours a day and ingenuous as we tourists are we would not recognize them on their gum-trees.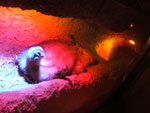 Of course they have 'roos' here, wallabies, snakes, cockatoos, parrots and others.
But it's the same in every zoo: On the one hand you can say that you have seen them, on the other hand at least I have an oppressive feeling in my stomach. Anyway - the wombats are great! Sleepin' all day long as well. And in the wild they are sooo peaceful, even immigrated rabbits cast them out...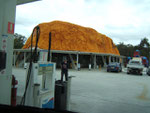 For the next hours we're driving again on Pacific Highway towards south. Still the sun does not show her whole face, what is comfortable for a certain while. And what we do not expect at all: We do see the Uluru! Ok, it's not the original one but a service area but anyway ;)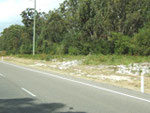 Onwards Nelson Bay and Port Stepehns the landscape changes again and suddenly we see fine white sand at the roadside. Apparently we have quit the 'chain of mountains' and are back on the way to the ocean.
We reach Port Stephens/Nelson Bay and get a glimpse of "Aussies making family holidays on a campsite". A very big areal, huuuuge sanitary facilities ( I don't know - about 30 toilets & showers only on the women's department?), bituminised ways on the campsite and everything - as always - shipshape neat and tidy. And with an encoded access to toilets and beach.
In some cases this code miiiight be not a good idea: Five kiddies ran towards the facilities shouting loudly "C-1-3-9-7-C-1-3-9-7". Somehow they've lost their "7" and were standing kinda stranted in front of the door :)
OZ/Tag 11 - Flynn's Beach - Nelson Bay