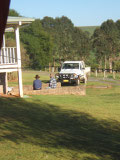 Wednesday, 31.10.12 - After an almost 'magic' night with a full moon rising over the mountains and the right song on the radio [Flight Facilities/Clair de Lune (!)] we are wakened by magpies and the sun, it's about 7am and before breakfast I HAVE to go and take some pictures. What a weather! What a silence! What a landscape! We do like the inhabitants, enjoy the moment and take our time.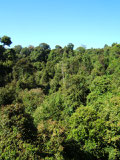 Next stop: Another nationalpark about 20 km away. We may (but don't have to) pay AUD 2,- (or more) admission and are able to see this unbelievable rainforest. At about 9am we are the first visitors: The admission-box is empty and in the touristshop they make their plans for the upcoming day. It's pleasoantly warm and with our obligatory bottle of water and our hats [you'll never know what's coming from above] - we start into the green.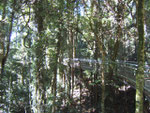 Aussies are really great in constructing parks: You have walkable (or even drivable) paths, lots of information signs, everything is neat, no trash flying around and all this for little money (if any).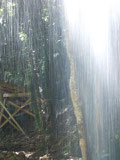 After the first 1,5 hours we have passed half the way of the circular track. We stand in front of a WATERFALL! Crystal Shower it's called and that's how it looks (even if we didn't check the temperature).
3 hours later it gets fuller and considerably warmer. We see strange birds, hear weird sounds, look at amazing vegetation and even meet a snake (I don't know who's more afraid...) and then go back to the entrance and take a seat in the shadow. Just sat down a very friendly waitress offers a jug of ice-cold water. For free. That is service, isn't it? We take a tasty clubsandwich and a real italian coffee and restored we go off towards the coast [muuuuuuuch pictures in the gallery].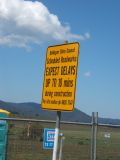 The landscape gets much greener, seems they have more water here. At one of the numerous road works we get a pace-car-service! Instead of traffic lights there is a yellow blinking car that every few minutes takes some cars through the road works. First one direction than the other. So this is an alternative too ...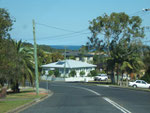 We drive through mountains, along huge rangelands, small towns and rivers. And suddenly we see the ocean ... I mean, we knew that we drove towards it but we didn't reckon it would be that fast.
At Sawtell we find a campsite (which we were searching for a long time - don't know why, it's a big one you actually cannot miss) and hurry up to get into the water. As we don't know if there is shark-season we only put our feet into the sea or rather get into it until the belly and stay at the shore.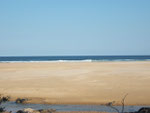 WHAT A DAY!
In the morning silence and a green, almost sticky rainforest, in the evening the oceans's swoosh and a pleasant fresh breeze. Awesome!
OZ/Tag 9 - Dorrigo - Sawtell (10/2012)