Tuesday, 30.10.12 - A quick picture of the 'puschelbusch' ("bottlebush") at the campsite and on again, but now really on the Waterfall Way.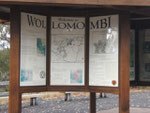 After some kilometres we reach the first 'must-see-tip': Wollomobi Falls. A little off the street (and fortunately paved) there is a picnic-area, we could have stayed even the night! Again we have huge gum-trees, some benches, tables, barbie, water-taps and we curiously walk towards the waterfall. Strange, we do not hear anything. Should it be THAT far away?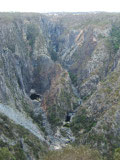 No, it's not... it's empty!!??!?!? Definitely we're here at the wrong time (too late), there is no water in it at all. Nevertheless the spot is impressing. And one assumes (claims?) that this is the highest waterfall in Australia, about 220 m height.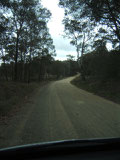 A tiny bit disappointed we move on, the next nationalpark is waiting. We reach it driving on a not-paved way. Ouch. But works, we are allowed to drive max. 12 km with the rentalcar on unpaved ground as long as there is a campsite. And there is one :)
Shortly before the parking area a real, living, huge kangaroo skips in front of our car. Comes from the left side, takes a look at us and skips on. Somehow cool. [And realy huge! Estimated 1,50m or more - I guess this is 4 feet 12 in Commonwealth ;)]. Of course camera and me are not fast enough.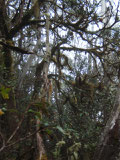 Officially we are at New England National Park/Point Lookout.
Inofficially I'd suppose us in Middleearth/Fangorn...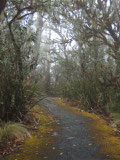 Because of the continuing drizzle we decide to take a short walk - on our way here there was a little brook crossing the street [well, 'brook' is much too big, but I didn't find the right word]. The sand here looks like getting very slippery when wet and we only have 2WD. Prudence is the better part of valour, we retreat in time.
Fortunately the sand is not as slippery as suspected but from the 'little brook' arose a bright surface with some meters diameter. Nothing scary, but one hour later perhaps we would have looked upon a raging river?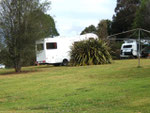 And the best of it: There's a campsite right next to it. Actually it's a big meadow with a house on it, on the basement you have two toilets and a shower. The groundkeeper comes along 'sometime at 5pm' and collects the AUD 25,-.
OZ/Tag 8 - Armidale - Dorrigo (10/2012)