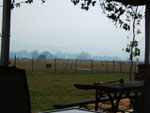 Monday, 29th oct 2012 - After a long fine breakfast with 3-l-honeypot and vegemite (hmpf... very special spread) an almost last view around - the whitegrey is no morning-fog but bushfire-smoke from "just around the corner" (what an aussie calls 'around the corner' - lots of kilometers away. Probably. Hopefully.)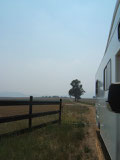 And there we go again. We would have liked to stay longer but 14 days for New South Wales really is a short time, so with a little heartache (but several tips) we drive on and are looking forward to the next surprises. "Waterfall Way" - sounds very well, hopefully we'll find waterfalls there.
Since we are nearby we'd like to see Tamworth's "Golden Guitar". It's said to stand at the town's entrance as sign of the most famous county- & westernarea within Australia. But either it is away for repair or we get the wrong entrance - we only see the 'restaurant of the golden double arcs' ... Seems that there are no more attractions here, furthermore we want to go on, so we drive towards Armidale. Got a tip that this city is a very nice one.
We pass some swedish-looking grasslands and fields with little rocks (hey, archipelagoes?) and finally I manage to take a picture of a complete truck. [Thanks mates, for driving slowly...] And no, we did not see a real roadtrain. I guess they will only be found in the outback.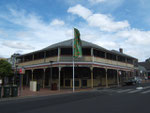 We drive through the plains with grass, rocks, gum-trees, cattles, sheep, grass, rocks, gum-trees ... until it's getting greener and higher. We reach Armidale (pls. look in the gallery - soooooo good looking houses with art nouveaux and/or victorian style... I became a little jealous.)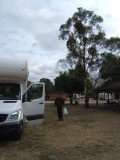 At the tourist-info very friendly women are talking very slow for us and we get a little citymap. On foot we explore the inner city. As it is not thaaaat big this takes us two hours. We notice a christmas-shop - this seems somehow weird to us. But hey, only 7 weeks until Christmas... Totally forgotten. We find a little shopping mall, buy some food and head for the campsite. We think. We do not find it. Fortunately Armidale has another one and about 2 hours later we reach our doss.
OZ/Tag 7 - Sisterheart - Armidale (10/2012)