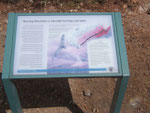 Sunday, 28thOct2012. On our way to 'sisterheart' we visit the "Burning Mountain", burning by nature. We climb upon the mountain (on the fortified walkway), again it's warm and sunny. All the flies wanna tramp on our backs or in our faces. Lazy ones. And again the look-out is phantastic....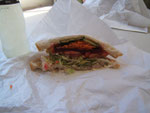 Our first 'dinner': Chicken sandwich at a takeaway in Willow's Tree. And WHAT a sandwich...! No wonder that several trucker take a rest here.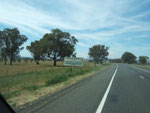 Restored we go on to visit sister and her family. Country. Plain. Surrounded by mountains. And - yes, warm! Although it's slightly fresh under local conditions. And in contrast to the areas we have seen before here they have water in their creeks.
Again we enjoy. Look-out, warmth etc. In the evening 'Mr. Roo-Spotter' and sisterheart take us on kangaroo hunting. Actually we do see living animals (before we only saw their dead bodies on the road, as rabbit and deer with us), but for our camera they are too far away. We also see a camel. No koalas.
After the tour we get an excellent barbie and we start to cherish xxxx gold, an australian beer with less alcohol per cent (nonetheless not cheaper ...).
For dessert the dessert of all desserts, I forgotten the name* and I don't have the recipe yet. Everything yammi.
*Pavlova! Its name is "Pavlova".
At 9pm kids have to go to bed (school tomorrow, how stupid) and not much later we 'big ones' fall to sleep as well.
OZ/Tag 6 - Muswellbrook-Sisterheart (10/2012)