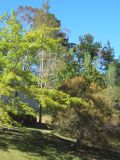 Meanwhile we are lost in the overwhelming impressions - which day's today? Doesn't matter, our morning view off the car is great, it is WARM and at 8am so bright we have to wear sunnies (sunglasses). The woman at the reception has recommended to have a look at this part of the nationalpark, we will do that. ...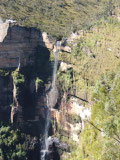 AWESOME! We realize: We have to go here again and go in details. Walking for hours on the (often even paved) tracks and admiring the landscape. [Although actually I don't like mountains that much ...?!?] Unfortunately I cannot take pictures from the smell - so please sniff at eucalyptus-sweeties, ignore the sugar, imagine hothothot summer temperatures [ok, hot for northern european conditions ;)] and maybe you can guess how those Blue Mountains feel like in Australian spring.
Some time later we have our first 'dispute': Madame 'Navi' says we have to drive to the left, me (with the roadmaps on my knees) say we have to drive to the right. And what does Mr. Engineer? Of course he relies on technology. Consequently we drive back to Katoomba instead of towards Singleton. Just turning round on the freeway does not work ... After this 1-hour-extra-tour we're on "Old Paddy's Road" north. A feast for motorcyclists - curves. and curves again. left, right, up, down, I'm feelin' kinda being in southern France.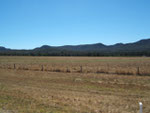 It seems that after every downhill drive we have another landscape. Sometimes it's green like rainforest, sometimes it's brown like scrubland. You get everything except big cities.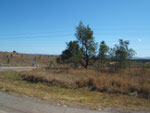 The next 'drama' in Singleton: 'Navi' doesn't speak anymore (which means 'straight on' we suppose), I am offended too and so we drive in circles again. For two hours. 'Navi' didn't know the new ring-road, some jester had removed the freeway-sign [aussies are veeeery economical with their information signs anyway] and we recover out in the sticks. 'Navi' says 395 km to Singleton - THAT cannot be at all, perhaps 20 km. Ok, restart of 'Navi' and arranging the roadmaps and on we go to Muswellbrook. It's hot hot hot, but meanwhile we fortunately have discovered the camper's air-condition ... Tourists...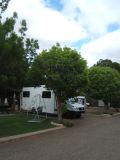 We drive through the huge grey coal mining areas along the New England Highway to a little miners' city called Muswellbrook. The campsite is very small, almost too small for our camper. There are lots of cabins for the miners, no real campground. The 'groundkeeper' finds a little site for us, just in front of the barbecue (in OZ you have quite everywhere at least a small 'barbie'), we only have to 'beware of Mr. Tree' :) Made. At evening we take a little walk into town, cockatoos fly in swarms, it's 7pm and we got 21°C! Ah yes, and it's saturday and the bottleshop still is open and so we're lucky to buy some wine for my 'sisterheart'.
OZ/Tag 5 - BlueMountains-Muswellbrook (10/2012)