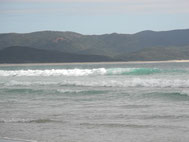 Before our journey we said: "But we do not drive the whole way from south to north."
Well, we have almost reached the south [only 26 km to Bluff left, offshore islands discounted].
We blame the weather ;)
Now we are sitting at breakfast, about two hours to drive to Cape Reinga. Clear decision: We make a reservation here for a campsite tomorrow evening and go off to farest north. This is not to say: "We have done it." But to enjoy the landscape. Another place where two oceans meet - that's something, isn't it? We drive along the pacific coast on SH10. There are some little villages, you could even talk about populousness. Nice houses are built into the hills with splendid views of the sea. Each kilometre at Far North is getting more and more plain and now we see a really long white cloud for the first time, a cloud which has given NZ its Maoriname. At the end of the trip we have some hills again and at our left side appear big dunes. You could loan a wakeboard and slide down as on snow. You could also make a tour at "90-mile-beach", 88 km [55 miles] driving at/on the beach, of course on a booked tour as a) you must not use a rental car here and b) we are not that mad risking to get stuck in the sand. Instead we are searching for a parksite at Cape Reinga. Wow, it's crowded here. Two busses have just unloaded their tourists, everywhere people are walking around. To us that's too much ;) But the information signs at the way towards the light house [a very little one] are created lovely and furthermore interesting.
Anyway we hit the road and go off for the campground. We choose a DOC-site which you can only reach via 16 km gravel road. We assume that the ground will be empty because most of the rental companies do not allow driving on gravel roads. But we have reckoned without the Kiwis: This weekend before easter the site is well attended, families have their "complete" household taken with them: Boats, trailers, bikes, scooters, tents, caravans. But this is not awkward because this really campsite is big enough for all of us, we almost stand alone :)
After coffee-break we walk off to the beach. WHOOH! This is amazing! White beach, turquoise waves, cliffy rocks, lots of mussels and snails [yes, I leave them and take only photos...], a cave, an island, warm water. It's funny how different couples do the same things: The guys crest/conquer the island while the girls take pictures of the beach... Only one person is taking a bath, I guess this is due to the drift. Actually we have seen only five people swimming and none surfing in the last weeks. Too cold? Too much drift?

After two or three hours we do not get jack of the beach but nevertheless walk back to Jed as long as it is clear and warm. At dawn masses of sandflies wil arrive. Sunset is beautiful from our window seat too.
01.04.15/ aroha island - cape reinga