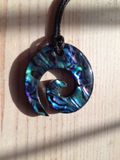 SHOPPING!
At morning we take a walk through Harcourt Park and gaze at trees, river and rainbow. So here they have made some parts of the movies? Mm. We do not recognize anything, but it is more than 15 years since [goodgracoius...]. After our walk and at the beginning of some slight drizzle we set out for northwest with a detour via Carterton.
Why via Carterton? There seems nothing great to see? Yes and no - the Paua-Shop is settled here and I have to rummage and certainly buy something. Perhaps the ride along the coast would have been nicer but there is no Paua-Shop. We reach the shop after a short search and I am excited. Whoever will be in this area and wants to buy paua- or jadejewellery or other souvenirs is in good hands here. A lovely made up shop with unbelieveably nice saleswomen. Of course they have a lot of kitsch too, but the paua-products are awesome. Even the polished pieces for handicraft works have their charm. The bone- and jadependants are as well beautiful but to me too expensive. But I cannot befriend to merino wool with inweaved possum, even though I know that it is wise to use them intruders. If I had no daft qualms here I could stock up the next 20 years with scarfs, caps and gloves. Well, moreover the temperatures do not really tempt us to buy wollen stuff :)

If we had not caught lunch break again we could have seen live how the pauas are handled to get that beautiful shininess. Thus we have to be satisfied with a little documentary movie. After three-quarters of an hour we leave the shop with 100 dollar less but a bag full of souvenirs.
On the road are less opportunities to take pictures, some villages, some meadows, some hills. Instead, approaching the coast, we get a heavy rain. It's bucketing down and the wind is decent, Jed has some difficulties to keep on track [and we move only at max.50-70 km/]. We are now in South Taranaki, an area around Mt. Taranaki, a single [and banished as the Maori story tells] volcano. Of whom we see - nothing. We are not sure if we have chosen the right place for tonight. But at some time the rain is getting less, we just have to find the freesiter. Shortly before our goal I notice a dark mass on our right, some kilometres away... May that be the volcano? It seems. The freesiter is a little piece of parkingsite at the end of a path at the oceans edge. Awesome! Only us, just some cattles, on the right Tasman Sea, on the left the lighthouse. So beautiful! Perhaps we are lucky tomorrow to see something of Mt. Taranaki. Driving on is no option today, we are washed-out by the exhausting journey today and fall asleep nearly after dinner.
26.03.15/ upper hutt - cape egmont