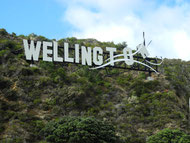 After this somehow noisier night we get up early, we have a long march to do. There are so many things I'd like to do at Wellington: CableCar, TePapa Museum, the perfumery at the cablecar's terminal, Botanic Garden and and and.
We decide on an attraction we both do benefit from: WETA CAVE. Definitely a must-do for us. [Sorry, Ani, I would have loved to ask the guy at the perfumery for the steel/gasoline-scent ;)] "What is WETA?" -> In the broadest sense some movie-outfitters, who have worked for LotR, Hobbit, District9, Adventures of Tintin, Avatar and a lot more. Here they produce masks, wigs, prostheses, clothing, weapons, houses, trees - in fact all you need. Some days ago we have made a booking for the Weta-Workshop-Tour, where you can not only admire the samples but also watch how they are made.
The way to the Cave leads us alongside the freshly tarmized street at Evans Bay and across a residential area. Everyone we face gives us a friendly "hello", we are not used to that in German cities at all... At the end of the road there appear: A dwarf on a post and a troll at the wall - so this must be the WetaCave. Much smaller than I had expected, likewhise the workshop. We poke a little around the shop, watch a documentary movie, wait for the beginning of the guided tour. While we are sitting between William, Tom & Bert another fellow sits down beside us, a fellow I would not like to meet in the dark. Otherwise I would certainly feel most protected if he'd be on and at my side. Almost 2 metres tattooed Maori (?) with impressive pendant, pirate bandana, apron. Apron? So he's the cook here? No idea; anyway, he is talking to someone at the phone and emanates a pile of serenity. [Some weeks later I learn by chance that he is a make-up artist at Weta, Warren Dion Smith, well then rather no cook...] To everyone who's interested in the making of movie props I recommend the guided-tour. Super-interesting! In small groups you walk along different stades of a weapon [from sketch to finished product], car-dummies, dwarfs [such small is the king under the mountain?!], armours, 3-d-printers, statues, masks, wigs and things just in process. Unfortunately we have just caught lunch break so we can only watch one person working. But what we see is really amazing.

On our way back we take a rest at the friendly subways and walk on to our campsite. Not without taking some photos proofing the wind - it is really windy here! [And we are used to that in a sense...] We drive on through the city, have a little thought of visiting the museum, but there is no free parking site - so next time then :)  On our way outbound we see some works of art, mostly concerned with "movies" or "wind" and again some paintings on the walls. Our way on SH2 leads to Upper Hutt, the motives are not as spectacular as else [or are we already used to them?]: Many houses, broad streets, railways, many cars, blocking out our view over Wellington Harbour, just an urban area. Walking a bit in Upper Hutt we buy some toast and milk at the dairy and marvel: In some garden they are harvesting oranges! Well, as apples in autum in our country :) At the campground we learn that even here - of course - some scenes for LotR-movie have been shot, according to that we sleep between "Anduin" and the park of "Isengard". Fortunately we do not see orcs ;)
25.03.15/ wellington - upper hutt