Tue, 23.10.12 – We catch one of the last warm days in Germany this year, departure 9.25 pm from Hamburg.
I'm sooo excited.
Wed, 24.10.12 – After a 6-hours-flight landing at Dubai at 5.40 am. Slow-going sunrise, it's getting hot.
Fortunately the airport is air-conditioned. Anyway the thick cardigan is ...
... too warm. And the 2nd t-shirt. And the woolen socks. Someone had told me, it would be fresh in the plane. HA! Was much too warm – acclimatization for the next two weeks? However, the airport offers all a shopping-heart longs for – Swarovski/Ferrari/Chanel and all that stuff, thus nothin' for us. But you may watch a lot – 1001 nations and languages! And as everywhere: Queues in front of the women's toilets… At RedCarpetBistro we take a white coffee for 18 monetary units (Arabian dollars?) and look around a little tired. Don't forget to stretch our legs and at 8.50 am (Emirates time) the trip goes on to Bangkok. Here we have another two hours stop, it's raining, it's dark and it's warm.

Thu, 25.10.12 – After this 16-hours-flight (with stop in Dubai and Bangkok), three times lunch ("chicken or fish?") and one breakfast we have taken the first hurdle: WE ARE IN SYDNEY!!! It's warm and sunny, at 8 in the morning already 25°C or so. We also got our luggage – everything's fine. Driving by taxi to the campervan-rental and in a jiffy we are thwarted considerably. The good man is all alone in the office, his colleagues are busy with camper-instruction outside and so we have to wait about 3-4 hours until we get our camper. Instead of the booked 4-persons-one we get a 6-persons-one – huuuuuge! Gain: we do not need to make our beds the whole trip on. Loss: that car is really tall and broad. And one of the additional blinker is broken. "No worries" – it's replaced on the spot, the mechanic is advanced to a "specified technician" (at least the Mercedes user guide says that the one who's working on a sprinter has to be a specialist) and finally there we go!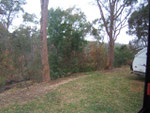 Into left-hand traffic and searching for the campsite. 'Navi' takes us safely through the city – ohmygoodness, I'm really glad not to be at the wheel. But everything's cool: Standing on the zebra crossing during a red phase we do not even get an angry glance or snide remarks. Welcome to Australia! Unfortunately the streetmaps on 'Navi' are about 10 years older than some streets and so – after our first successful efforts to avoid toll and Harbour Bridge – we move in a circle. The friendly boys from the filling station help and after another [felt] 100 km and 5 hours we are finally there: Lane Cove River Touristpark, a campsite in the middle of the town in the middle of a national park. Quickly off to buy some food – there's nothing in the van. Those who think "big city – big supermarkets" are cheated. The next store is just around the corner (thus about 15 minutes through left-handed traffic, meanwhile we have kinda rush-hour), there we get dishwashing liquid, fruits, salad, bread, cheese, water, beer… beer? No! You'll find no alcohol in Australian supermarkets. [Yikes?! But probably not that stupid .] In a little shopping-mall next door we find a bottleshop. For lack of parking place Lord&Master stays at right angles to the parking cars and nobody complains! Who wants to go lets to know and that's it. Meanwhile I'm taking a sweeping blow of Australian beer [scandal, THAT is expensive here…!] and then we drive back to our overnight site. On our way we see some cockatoos plundering a tree. We have sparrows, blackbirds and 'elstern', they have cockatoos, parrots and magpies.
At the campsite quickly looking for triple j, preparing salad, eating and at last calmness.

there are no pictures for the first three days,
but you'll find a gallery for day 4-16 here