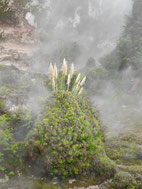 In the morning we see how the local kayakers handle sandflies: Spray. From top to bottom all uncovered skin gets soaked. The rest is hidden beneath neoprene. I'm not sure if the two got their wetsuit against cold water or rather sandflies.
However, we drive on across volcanic regions towards east.
Before our tour we stop at the small gas station 2 km away, a flashing light won't work anymore. Both station attendants are at older age [around 70 plus I'd guess] and bust a gut to help us. Of course we get a receipt for Wilderness without any demand (!), just to "get your money back". While best husband and one attendant are replacing the bulb the other one is cleaning Jeds windows. And after that they do only ask for the 1,50 NZD and won't even have a gratuity...! Oh dear.
On SH1 and SH5 we go ahead to that famous thermal region. At Huka-Falls we stop for a little MUST-have-a-look: More than 200,000 litres of Waikato-River are running down a narrow gorge. Somewhere we have read that the Kiwis use the water for power generation and therefore the water gets dammed and is let loose every 20 minutes or so. I have no idea if we see the 20-minute-splash or "just" the normal one. In any case it is impressive and we feel dizzy looking down the rapids. We leave the souvenirshop aside and drive on to the "Craters of the Moon", a loop way across steaming soughing sizzling holes. For eight dollars each we are on the move for more than one hour and are fascinated by that geothermal landscape. We pace on boardwalks [in order to avoid burning feet] and on gravel walks up and down the loop. At one hole I am too slowly, a crush of steam gets me in the middle of my face, for one moment I gasp for air. Apart from that it feels similar to a steam bath over a pot, unless that in case of doubt the eucalyptus-bath has a better smell. But actually the smell of sulphur here at the craters is less nasty than expected.
After our lunch-sandwiches [shared with cheekily sparrows who even almost enter the car] we ride on. We did not see any of those muddy "Blubbs" and will try another spot. As we do not like the big touristattractions and a geyser chuffing at the push of a button we do not visit Wai-O-Tapu or Hells Gate Thermal Park but Wairakei Natural Thermal Valley. Stupidly [or luckily?] I have forgotten to charge the camera's battery so I can not take any photographs. Probably we have had material for another 365-calendar then ;) What the hey, today you may take rather good pictures with a telephone. There is a loop walk through this park too and we get a thermometer on our way so we may detect the temperatures of pathes, stones and water. This park is somehow smaller than the big area of this morning but built up lovingly, actually some holes have names! But neither here do we see any "Blubb", the soil is just too dry.
[Almost] Without taking photos on the road we drive on, else through Rotorua where I notice a biker much more than all that thermalthingo: He wears an immaculate motocross-helmet. On the street. On the cycle path... Seems he's returning from some training - as we get to know after our journey the Rotorua region is a paradise for mountain/downhill bikers, they even have arranged [or will arrange?] the world championship around here.
At late noon we finally arrive at Maketu, the chosen campsite for today. Firstly we are not sure if it is the right one, it looks much smaller than expected. Whatever, there is a free site, some minutes later the host turns around the corner and is pleased about our visit AND we have a site at the edge of the ocean! Great! There is a fairish smell of fish in the air but at least it is fresh fish and after 7 o'clock our windows are shut anyway.
Apparantely this site is attached to the locals who cast for their food at the weekends. There are lots of small huts and some signs begging for not letting your fish laying all over the place. At night we have a little tv-show for dinner: Fishermen in the ocean until darkness. I think there is a reason for the name of this place: Bay of Plenty.

28.03.15/ thermal wonderland