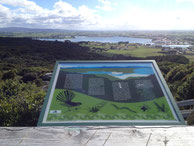 As nice as it is on this freesiter - we go on along Southern Scenic Route, firstly to Riverton because there are some beautiful tracks they say. Not too long [hahaaa!] and with a great look-out.
Mores Lookout Track - from bush to beach - that sounds good!
We find the carpark of Mores Tracks rather fast, driving through Riverton's residential area, out of the village on a rural road and then on a narrow dirt track up and up to the top. We have really phantastic views of Colac Bay and listen excited to the birds. We even succeed in recording their tunes, they seem more friendly here ;) But we can not see them at all. On the information boards we find several walks, even the estimated durations are given:
20 min, 45 min and 120 min return. At first we take the 20-min-loop to the hilltop [Hilltop Lookout Track] and have a great view over the trees' tops! After these short 20 min we decide to take the 45-min-loop, that fits to our rough schedule perfectly. But we reckon without the loamy soil which makes us walk very cautious. And once again I forget that 'loop' does not always mean 'loop in a flat'. First of all we step down the hill to the beach and then all that stuff back up again. Photograhing and sit-downs included this loop takes us 2 hours. Who knows, perhaps we catch the 120-min-Coastal Loop Track by accicdent. However. The track leads through bush with enormous ferns and much more green, after a while you can see the ocean and step directly towards, at the coast the track goes along the beach and sheep-runs and then back through the wood. The weather is typically NZ: Sun and blue skies, followed by clouds and wind and then sun again. But no rain ;)

At noon we set off, searching a petrol station with a working diesel filling pump and end up almost at Invercargill... Actually we find a lonesome filling pump at the roadside - with an affiliated garage and a joking service attendant. Cool - things like these still do exist?
Our way takes us north, away from the coast into the heartland. What a pity. But some kilometers later on we have to admit that even the heartland is beautiful. Especially when we reach the first foothills of Fjordland. We see the first snow! Pretty far away on the mountains and it really may rest there and embellish the hilltops ;)

At Lake Manapouri we take a rest, somehow irritated by the town sign, and get some flat white and sandwiches at the bistro vis-à-vis the park, next to an old church, now serving as a restaurant. Yummy! Watching the clock we notice that it is time to search for the next campground, at last I have to dry a pair of jeans... So we move on to one of the seldom big campgrounds at Te Anau. [It's not that they would not have big grounds in NZ, they have plenty of them, especially made for families. But we do prefer the smaller ones.] This campground has got a biiiig reception and you may book tours to the famous Milford Sound. With bus, helicopter, waterplane, everything is possible, depending on your wallet. But do we want to go there? Only because it is a "Must-See"? For EUR 100,- / NZD 160,-? Nope. Instead we take a little walk at the promenade [sooo many tourists here...:/ ], quickly buy some toast at the petrol station and go back to Jed even quicker - the wind has freshened a lot, it's cold and it even gets dark in a short time.

tag 6/ 18.03.15 southland - fjordland