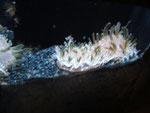 Wednesday, 07.11.12 - We get up slightly downhearted, today's the last day. We're packing our luggage, doing checkout (fortunately we may leave the luggage at the hotel) and off to Darling Harbour. With sightseeings of Sealife Center and Australian Maritime Museum we want do spend the day, the plane does not leave until 9pm.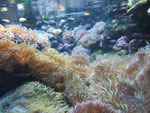 Sealife Aquarium is veeeerry expensive but wow! I've never seen such things (jep, I know, at home we have one just around the corner...) and I am impressed when a big manta ray is floating over us. And a shark. And a sawfish. And thousands of other fishes.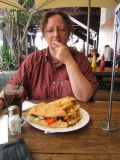 Before visiting the Maritime Museum we take a little refreshment - we order a
sandwich and get
this one:
Because we do not grant the seagulls anything, we do eat all of it and then roll towards the Museum. What a pity, the pirates' exibition is only for children. The history of sinking Titanic is not that unknown to us. But nevertheless there's still something to discover. I didn't know that the Dutch were the first Europeans in OZ and that they did not find Southeast of it. And that the weird tufted boots the girls wear in Germany are called 'Ugg' [I'd rather call them 'Ugh'] and that they're coming from a surfer's workshop. Who would have known.. [Boots? Fur? In Australia???]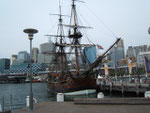 Ok, a last Cappuccino in front of the Endeavour's replica, back to the hotel catching our luggage and then by taxi off to the airport. (Taking a taxi is great,  I actually learned to value it here. Of course we did not use it always but two or three times it really was pleasant.)
As we get in the car it begins to rain.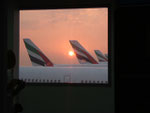 At the airport we spend our waiting time with shopping and a last xxxxgold before we take off for a 13-hours-flight to Dubai. There (my goodness, we are really 'out of order') we go to Red Carpet Café and are waiting. And walking. And taking a last picture.
OZ/Tag 16 - Sydney - Hamburg