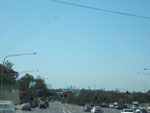 Monday, 05.11.12 - Tell 'Navi' not to use toll-streets, take 1x a false turn-off and you'll drive 20 km loop-way AND along Harbour Bridge (yes, toll-street...). Well. On the narrow slip road we fold our mirror, stop in the middle of rush-hour to pop it up again - and no-one grumbles...?!? Traffic like in Hamburg and nobody bleats? Welcome to Sydney!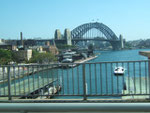 Despite several airplanes whooshing over our heads we manage to clear the toll-thing by telephone. Which is normal: You take a toll-street, you call the roads service within 2 days, give your licence tag and credit card number and the 'rest works on it's own'. No queues at the pay kiosk, no troubles with missing coins - cool.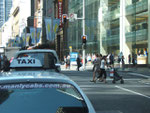 A little city-tour through Sydney towards the campervan rental (where are filling-stations when you need them??) and after 1.5 hours waiting time in the air-conditioned office we give back the car. We have no problems with that long waiting as we cannot check into the hotel earlier. At the hotel we notice that we have forgotten milk and butter in the van's fridge... hopefully they have found it in time.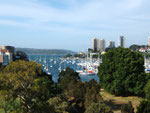 A view from the hotel's roof! That city looks nice from here. It's still early and after a shower and a nescafé (! they have instant coffee, electric kettles and milk-sachets free! Awesome!) we leave for 'downtown'. Through Rushcutter's Park and a pretty neighbourhood to the harbour.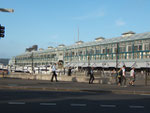 At Woolloomooloo Bay on the old wharves we take a ritzy dinner. But it gets fresh after 6pm (the wind!) and we go back to our hotel.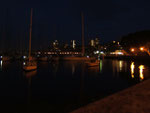 It seems that half of Sydney does jogging at Rushcutter's Park (with dog or without, alone, at two). It's getting darker very soon and above us the bats are cruising. REAL bats - spread about 40 cm or more. So we take a walk at the beginning of november in a t-shirt at 25°C through the park and bats are hunting above us...
Unfortunately they don't have triple j here, so we have to watch tv. Very strange after 14 days without. Something's under way with horses, wherever you switch you find betting shows or something like that. No idea what it is, also strange.
OZ/Tag 14 - Sydney I